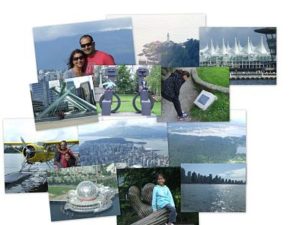 I'm not sure how many of you have made last minute plans for a quick getaway or vacation, but my family made some very last minute plans to visit a cousin in Seattle and while we are doing that, why not drive upto Vancouver, British Columbia.
So, here we are. We flew into Seattle yesterday evening. Left for Vancouver this morning which was a quick and easy 3 hour drive. We checked into our beautiful hotel on the waterfront, The Fairmont Pacific Rim. Asked the concierge for some sightseeing, restaurant and most importantly some volunteer or service project recommendations. Since we didn't have the opportunity to pre-plan the volunteer project, let's see if it works out.
We already tried to contact the Greater Vancouver Food Bank Society but they didn't have any projects for us. Our Concierge also tried to see if we could volunteer with the Lynn Canyon Ecology Centre, but no luck there either. We will continue trying.
In the meantime, we plan to have fun in Vancouver. This is our first visit to this lush and beautiful city, and we've already had a fabulous first day. We spent some time walking around the waterfront, but the highlight of the day was a Seaplane ride for a half hour city tour giving us a birds eye view of Vancouver and what a sight it was!!