Yes, we are adding a member to our family this holiday season and we are really excited about it. And, NO, we are not expecting a baby. But we have sponsored a child in Kenya, Africa through AmericaShare.org and we can't wait to meet him or her. Tis the season to share gifts with each other, so this year our family decided to share the gift of education with a child who's hopes, dreams, and an opportunity for a brighter future will be fulfilled.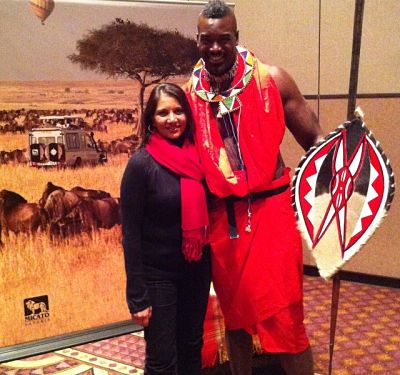 The inspiration came from my recent visit to an industry conference where a presentation from Micato Safaris and the story of Alex Sharpe had me in tears. The stories they shared were so touching and life-changing, that it immediately made me feel like I wanted to do something that matters this holiday season. I couldn't be more grateful for my family who were all on-board, just as heartened and excited about adding another family member to our lives.
Today I share the story of Alex Sharpe and I hope that it is as inspiring for you as it was for me. I also want to thank you for your continued support throughout 2012 and may all your travels in 2013 fulfill your dreams, be safe, and abundantly meaningful. Enjoy your time with family & friends this holiday season and I look forward to connecting with you in the New Year!


I have been in this industry for 16 years now and have always talked about selling dreams.  I often travel for business, but am always looking for the opportunity to bring my family back to explore fantastic places, but more often, fantastic people.  That was my experience during my trip to Kenya with Micato Safaris.  I knew they were a great operator – they had all of the awards, experience and reputation, but everything exceeded my expectations!  I was fortunate to be able to experience a Micato Safari into the Masai Mara with some industry friends as an add-on to a sales trip I planned to South Africa.  
I knew I was in for a trip of a lifetime and I was SOOOO excited to see the animals, the lodges and the landscape.  What I was totally unprepared for was the warmth and love I felt from the people and that is what drives me to take my family back and stay involved with the destination and a charity I fell in love with while I was there.  Where to start…
From the moment we arrived in Nairobi, we were greeted by smiling faces.  It became apparent very quickly, that these Micato guides were not just employees, they were family and totally invested in creating an experience that would have you remember THEIR country fondly for the rest of your life.  
Our hosts in Nairobi were none other than Felix and Jane Pinto – the owners of Micato… or better….the matriarch and patriarch of the Micato family.  They meet all of their guests, hosting them at their home where they can share stories about their family and their lifetime in Kenya.  Before I had the first morsel in my mouth, I LOVED these people.  Warm, caring, family focused and passionate about Kenya and her people.  What I hadn't realized yet, was that they were very representative of all of the people I would meet along my journey.
I have to say, the Masai Mara does not disappoint!  The scenery, the lodges, and the animals were everything I dreamed they would be….and more.  You don't give up any comforts – this was truly luxury.  I don't want to minimize this part of the trip, but quickly, my focus became more about getting to know the guides and the local Masai people.  Their stories, their garb, their love for Kenya just captures you.  We had an opportunity to visit a Masai village.  This wasn't a staged Disney performance, this was a tribe of wonderful people, living off the land in the middle of the Mara, inviting us to their homes.  They live in what I would describe as a primitive "fort" made of branches and sticks that create a circle around their dung huts to protect them from animals and rivals (not a big issue any longer).  A dung hut….well, I guess you can imagine what its made of, but these 2 and three room homes housing entire families were just remarkable.  Watching the "community" they had there, where kids all helped each other with babies being carried and fed by their elder brothers and sisters was remarkable – my kids have a hard time sharing crayons!  I was told we might meet locals, so I packed some little presents for the kids….silly bands (light and easy to carry on Safari since there are tight luggage restrictions).  The kids loved them, but had no idea what to do with them.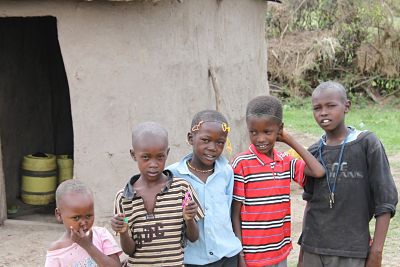 Towards the end of our trip, we transferred back into Nairobi and had a chance to visit the Makuru Slum.  The attraction there was the orphanage and school that Micato has built for the children.  What little these children have can be directly attributed to the Pinto family, Micato and the guests Micato has brought.  Unbelievable – they clothe, feed and educate these kids!  These children have so little, but are so fulfilled!  The children never stopped smiling and took a particular interest in my IPAD, where I showed them pictures of the ocean, snow and even the animals we encountered on our safari.…ALL of it was new to these kids and they just pointed and asked questions non-stop.  I have always described my marriage as a great fit of people from different worlds…my wife growing up with everything she could want, but wanting nothing.…and me, growing up with nothing and wanting EVERYTHING.  Wow, to say I grew up with nothing, after seeing these kids is positively embarrassing, yet, they want for so little.  The red school sweaters and opportunity for an education is MORE than enough if coupled with a few hugs and tons of smiles.  The perspective I gained was life changing and something I will never forget!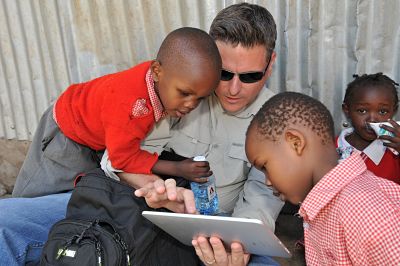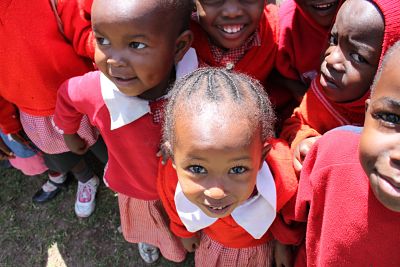 Our last stop was possibly the most special.  Just before my trip, as I was getting educated on Micato and their true passion for the destination and the people, I found their One for One program.  This program, amongst the many others they do, change lives.  For every safari sold, Micato, through their AmericaShare foundation is able to send a child to school for a year.  This means moving them from the slum to a boarding school.  Books, clothes, food, housing, education and a FUTURE.  As I was part of this industry function, I asked if there were a way for me to sponsor a child through AmericaShare.  Not only were they able to identify a child, but since the semester hadn't started yet, we coordinated an opportunity to meet!  
I got to spend 3 hours with Barrack Kutwa, 12 years old, the biggest smile, and the most humble and appreciative kid you could meet.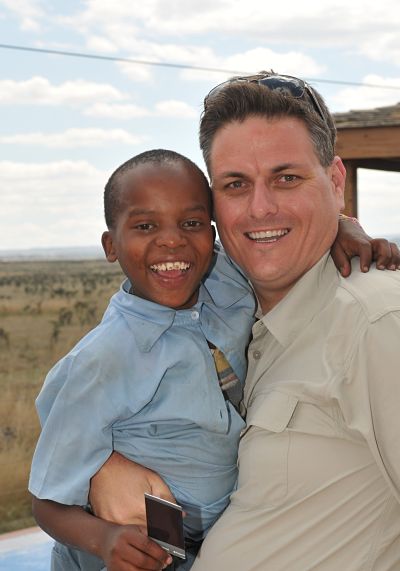 We talked about his 5 brothers and sisters and his parents.  He knew how lucky he was to have two living parents as most kids in Makuru have one or have been orphaned by HIV/Aids (both of his parents are positive, but living healthy lives).  We talked about what his goals were and how school would open up more opportunities.  He cried when he spoke about his opportunity – one he had, but his brothers and sisters did not and how he felt pressure to not only excel in school, but make a difference for his family, Makuru and Kenya.  I just know this boy will impact many, many lives.  So, here is the selfish part – I LOVE that I'm part of that.  My kids LOVE that they have a brother in Kenya.  Think about this…we called my kids from my cell that day and spent an hour on the phone with Barrack asking questions and learning about each other.  They laughed and laughed…thousands of miles away, on a cell phone, and they made a lifelong connection.  My children, now 10, 7 and 5, give me their birthday and allowance money regularly to pay for Barrack's school.  They are more interested in what we can do for him for Christmas than their own lists (most days!) and they scolded me last year for not including their brother on the family Christmas card.
When I think about Vacations that Matter…this trip symbolizes it for me.  Not only has it impacted me for life, but it has done the same for my wife and kids…and they weren't even there….yet!  
People will come for the chance to see the Great Migration, to see the big five, to balloon over the Mara at sunrise….but they will fall in love with the people and will become better people themselves for having had the experience!
Micato Safari was PERFECT and their integration with the people of Kenya, ALL of the people of Kenya, opens up opportunities for people to truly experience Kenya and everything it has to offer.
That's why Vacations Matter!
Alex Sharpe
Marina Del Rey, CA

Vacations That Matter Recommends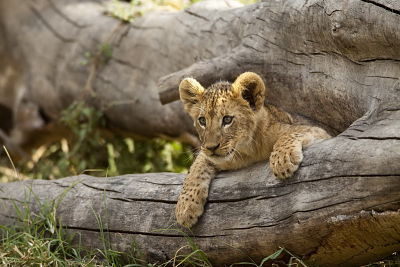 Private Invitation Safari & Heart of Kenya and Tanzania
Please give us a call for detailed itineraries and pricing.
 Lend a Helping Hand on Safari, spend a day  at Harambee Community Centre
Sponsor a child through AmericaShare.org